Gaultier 's Fashion Freak Show is making its UK Premiere at Southbank Centre's Queen Elizabeth Hall, London. 23d July- 2nd August.  I was taking photos at the photo call then attended press night. If you didnt hear me talk about the show on radio then I have written a review below the photos. Enjoy!
Jean Paul Gaultier has chosen significant moments throughout his personal life and career and turned them in to beautiful and brilliantly bonkers works of art in his 'Fashion Freak Show'. 
'Fashion Freak Show' has a bit of everything from live music and contemporty dance to catwalks and comedy.  
The humour you will be familiar with if you ever watched the TV show Euro Trash which Jean Paul Gaultier co hosted.
The catwalk recreations are so well done you feel instantly transported back to his iconic fashion shows but this time you have a small insight in to the chaos of backstage too, represented on the giant video wall that is cleverly used throughout the show.
Jean Paul Gaultier has created new looks for 'Fashion Freak Show' as well as displaying original iconic looks and paying tribute to those who have inspired him such as Madonna, Kylie and Prince.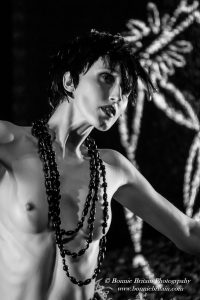 The fabulous and fitting soundtrack to the 'Fashion Freak Show' was created by Nile Rodgers, which helps to create the atmosphere of a party that we are all invited too. This party feeling is enharned by the live action and the catwalk coming out in to the audience.
Jean Paul Gaultier is known for breaking barriers and this show is no different. The cast do an amazing job of making Jean Paul's wonderful, quirky "out there" world of fashion seem accessible for every type of person. The show even picks fun at some of the more usual sterotypes of the fashion industry. I loved watching the plastic fantastic screen. It also "keeps it real" with the important message of Safe Sex.
More people could benefit from Jean Paul Gaultier's attitude… 
Everyone is beautiful. You are all beautiful. We are all freaks and freaks are chic"
This is is definitely something I can get on board with.
I don't want to spoil any of this unique, beautiful show for you and there is at times so much going on I may have missed some of it, (a good excuse to return to see it again) but I can tell you I left that evening feeling like I had seen the best performance, been to a party and learnt a little more about Jean Paul.
What an honour it was for me to meet and chat to JPG and Nile Rodgers after the show and thank Jean Paul for bringing the show to London. He is such a humble man and as Nile has his own show about to begin at the Southbank I asked him if Jean Paul would be returning the favour and be providing anything towards his show, to which he joyfully replyed that Jean Paul has designed some special outfits for Nile to wear, so he would definatley be standing out from the band on stage.
I like unique. I like "out of the box" thinking and I love outrageous fashion and good music and Jean Paul has been a big icon throughout my life. So the biographical content of 'Fashion Freak Show' really interested me too.
If you would like an insight in to Jean Paul's mind and you want to see a really clever, funny and beautifully bonkers performance, get down to the Southbank Centre before August 2nd.