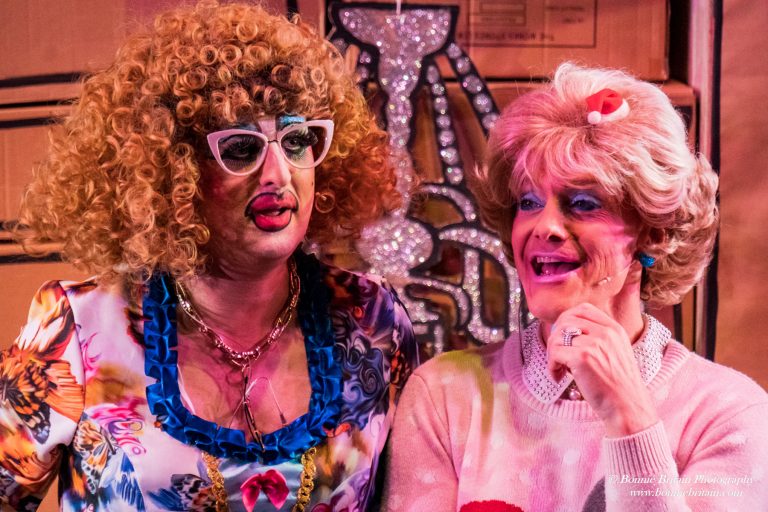 Review first published on Londontheatre1.com  here
Cinderella, the West End's first fully drag panto is a perfect combo of being in your face hilarious and a total hot mess. The cast give it their all between scripted and improvised classic panto moments – there is no holding back on this stage.
There is a suitably trashy cardboard set which sets the tone & the Drag Queens make the panto interactive in many ways, not just by working their way in and out of the the audience.
This adult panto has everything you want. From sing-a-longs, crowd participation, belly-laughs, toilet jokes, smut, shade and even a big lip sync number.
With Baga Chipz now being a global star after doing so well on Drag Race UK, a lot of the script is focused around her time on the show, maybe if you have not watched Drag Race UK (WHO ARE YOU?) some of the jokes would go right over your head but they are delivered in such a way that it really shouldn't alter your enjoyment. These Drag Queens really know how to work a stage.
I can't single anyone out as all the cast had me howling. Maybe not even intentionally at times, that's panto for you. The chaos of this panto just adds to its charm.
Drag panto seems perfectly natural with the history of the Panto Dame and Prince known for gender-swapping. I loved that this time it is the whole cast. It felt right and I hope other shows follow suit in the future, I mean Cinderella played by 'Baby' may well be the most beautiful I have ever seen on stage in her rags and her glittery quick change reveal.
Everyone knows the fairy tale of Cinderella right? Well think again – you do not get the traditional ending this time, instead you leave with the empowering attitude of that's the ending I never knew I wanted. A tale as old as time with outrageous , chaotic adult content and the ending Cinderella deserves in this modern world.
Go and see this panto if you can get a ticket.