The Hippodrome has been a favourite venue of mine since it re-opened in 2012. 
I have seen some fantastic shows there of all variety. From comedy and West End singers to burlesque and cabaret nights. All of them have been very classy with high production value. So with the Hippodrome having a full refurbishment of their event space for 'Magic Mike' my expectations were high. I was not disappointed.
There is not a bad seat in the space and where ever you sit gives an awesome view of the set, even if you are at the top or the back you will get very intimate views of the performers.
As the show started I was concerned as it appeared I had come to see a bit of a predicable/tacky in your face strip show with a fireman shooting off his hose and an MC as brash as they come. (Spoiler Alert) Then the reveal came and the audience are all let in to the joke that this is not how a night at 'Magic Mike' is going to be. The fantastic Sophie Linder-Lee becomes the host MC for the evening who has an instant likeability. Sophie came across as naughty but cute and oh so very funny. She put me me at ease and I knew then that this experience would be a fun one.
For me Sophie really is the star of the show. Her comic timing and cheeky hosting is something that makes this show different from just another strip show.
Now on to the men! Although this show lets you get very up close and personal (if you want) to them taking some of their clothing off and dancing around gyrating their hips in every which way, there is much more to them than just a pretty face, fit body and nice hair.
These guys can DANCE and in all styles. We are treated to  a tap routine which manage to be sexy, who knew?! Hip hop, a slow dance, contemporary and even some aerial work but they do not just dance, some sing and play instruments. It is a real feast for all the senses.
The production is top class with the clever set enabling the cast to get round the whole audience and the very stunning lighting design which includes some beautiful projections on to the men's torsos. 
The production clearly promotes the women's right to choose and ask for what they want is not only hosted by a women but includes a couple of beautiful female dancers too and what a job they do. My favourite part of the night had to be when Hanna Cleeve joined Sebastian Melo Taveira under the rain on stage, It was by far the show stopping moment with sensual choreography, not only sexy but visually stunning.
Every one watching seemed to love the show and the "one on one" attention some received from the guys as they worked the room. Do not worry, if you want to go watch but do not want to be that close! The men are very respectful and you are all given the safe word "unicorn". You will not be made to do anything you do not feel you want to.
'Magic Mike' will leave a lot of people turned on and not just by the lack of clothing. This is the best girls night out, go with a group of friends, have a drink to relax a little and enjoy the spectacular, funny and sexy show.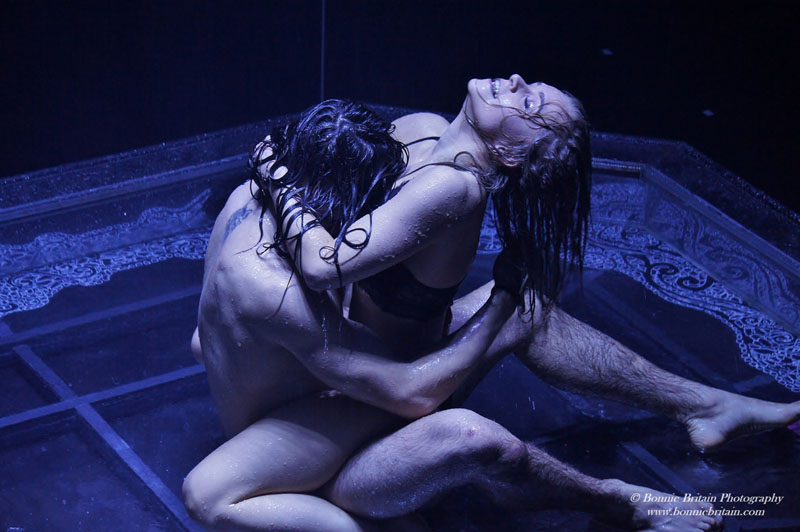 Magic Mike Live is currently booking until October 2019 at
THE THEATRE AT THE HIPPODROME CASINO
Cranbourn Street, Leicester Square, WC2H 7JH
PERFORMANCE TIMES
Tuesday – Sunday at 7.30pm
Thursday – Sunday at 10pm
Please note that Magic Mike Live is strictly an OVER 18's ONLY event.
Photo ID must be presented on arrival at the Hippodrome Casino.
If ID is requested to be shown and not available, admission will be refused.
The box office is open 10am – 6pm on Mondays, 12pm – 7.30pm on Tuesdays & Wednesdays, 12pm – 10pm on Thursdays – Saturdays, 3pm – 10pm on Sundays.