I was invited down to Mamma Mia! The Party in London at the O2 below is my experience and a few photos and vids I took on my mobile phone of the evening.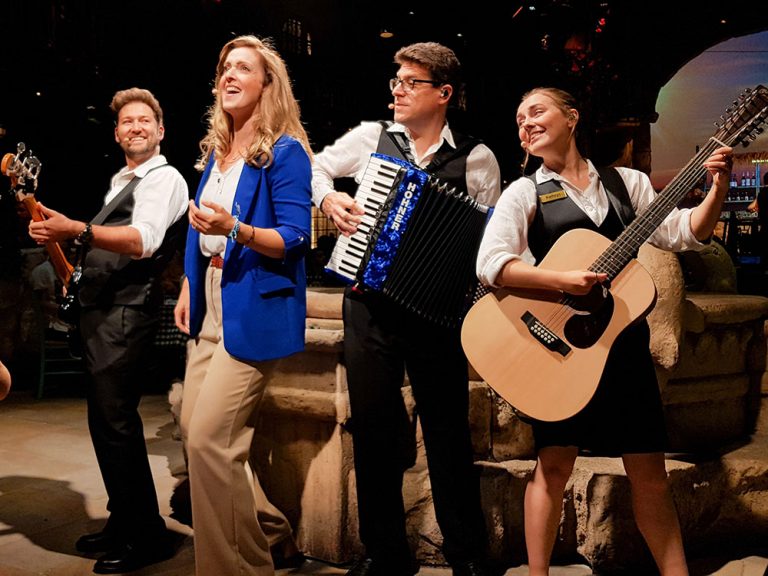 As soon as we walked in the doors we were transported to Skopelos and Nikos Taverna. There was such a warm and welcoming reception from the waiters who escorted us over to the beach bar for a traditional welcome drink and a cheeky bit of banter about our flight and our stay so far on the island. 
Everything about the setting is stunning and well thought out. The tables were set with menus that included the song lyrics to Waterloo and full of food to nibble on. 
Time flew as more starters were bought out and the actors started to mingle to begin the immersive experience.
When act one began it was as full on cheesy as expected, but cheesy is not a bad thing. The talent is outstanding and I must say with the amount of coverage these actors/musicians have to get round all the venue I was most impressed with the sound. I don't think there would have been a bad place in the whole venue to sit.
We as an audience were encouraged to sing and dance along from the start and there was a real party feel. In between acts & while the lovely food is served the show dis not stop, full marks for commitment to setting the scene.
It is really after dinner that the show stepped up, and wow it is all out. Fire, arial dancing, strobe lights and rock guitars. This was by far my highlight, it was like a show of its own. If I am honest the story is not high on my list of the many favourite things but its all so much fun and so well executed it didn't matter one bit. After dessert was served the party was taken up a notch again with a concert performance of all the loved Abba tunes. A cat walk was formed and everyone was on their feet dancing the night away, this was glittertastic and everything you want from an Abba show.
When the amazing talent had left the stage for the evening the party did not stop as it was disco time!
Prices are a little higher than I would want to pay for a meal and a show but the production values, commitment to the show and quality are worth the money, you have a whole night out with  top entertainment and food in the ticket price,