Nicholas Lyndhurst & Cassidy Janson Kelsey Grammer & Danielle de Niese have been cast in  MAN OF LA MANCHA Featuring the iconic song DREAM THE IMPOSSIBLE DREAM which will be at the London Coliseum Friday 26 April – Saturday 8 June 2019
I was invited to the press launch and photo call to meet the cast and producer Michael Linnit.
After a swift photo call members of the press were invited in to a Q& A and introduction to the musical. We were also treated to a video of cast members Kelsey Grammer and Cassidy Janson singing 'Dream the impossible dream' which was to be honest the only thing I knew previously from this Musical.
It was lovely to see the passion that has already been put in to bringing this production to the West End. Producer Michael Linnit told us how he first saw the production on April 24th 1968 on opening night in London and he has carried it with him ever since. Michael had been trying to get the rights to bring Man Of La Mancha to London now for 20 years and it was only after 15 years they called him back and asked if he was still interested, it then took a further 3 years of negotiations with the creators widows to acquire the rights and he now could not be happier that he gets to bring this magnificent show with this cast in April to the ENO london.
For those like me who are unfamiliar with Man of La Mancha it was described to us as  'beautiful fantasists wishing for a better world against all odds' and a play with in a play Inspired by Miguel de Cervantes's masterpiece Don Quixote. 
It was so lovely to hear the cast talk about how excited they were to get to work and there was no short of fangirling going on either with Nicholas Lyndhurst exclaiming " I cant believe Kelsey knows who I am" after Kelsey's impression from Only Fools and Horses and Cassidy stating all her friends were so excited for her to be working with Rodney and Frasier. 
Producer Michael also said that they were hoping to sign up another famous actor soon but was still in talks.
Nicholas talked about his first musical experience being in Peter Pan as a lost boy in 1975 where Mia Farrow played Peter Pan, and he thought that may have been his last musical experience but fortunately it wasn't. Nicholas is really looking forward to getting back on stage with ENO  and the venue holds special memories for him, he saw his grandfather there in 1939 and his wife dance on stage there in 1992.  Last time Nicholas worked with the ENO chorus he was so humbled and astounded every night watching them.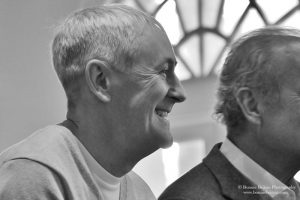 Nicholas said his biggest challenge this time will be not to cry every night, as
This show has everything, it has love it has loyalty, it has cruelty and it is brilliant, you must come and see it. 
I could have listened to Kelsey Grammer talk all day what a man with so many stories, he spoke about Frasier and was asked if there is a chance of its return to which he said it could happen but a lot would need to be worked out, and he also spoke about David Hyde Pierce ( who played his onscreen brother Niles) so warmly saying he never had a real brother so David was his brother in real life, they talk all the time but not necessarily about work, he also joked that he had not been to see him on Broadway as it was $5000 a ticket and that David was making good on his Broadway salary. 
Kelsey said he always wanted to do stage work and he was more of an 'actor who sings'  to which Danielle quickly responded  "you can sing" Kelsey said he was lucky to be at a point in his career that he could come and work for a few months on stage in a good role.
Man of La Mancha will be on stage in London for the first time in 50 years and I look forward to finding out more about it.
Man of La Mancha
London Coliseum
St Martin's Lane
London WC2N 4ES
Dates
26 April – 8 June 2019
Performances
Mon – Sat 7.30pm, matinées – Wed & Sat 2.30pm
Tickets
From £15
Box Office: 020 7845 9300
www.eno.org.
Twitter: @LaManchaLDN
Instagram: @LaManchaLDN