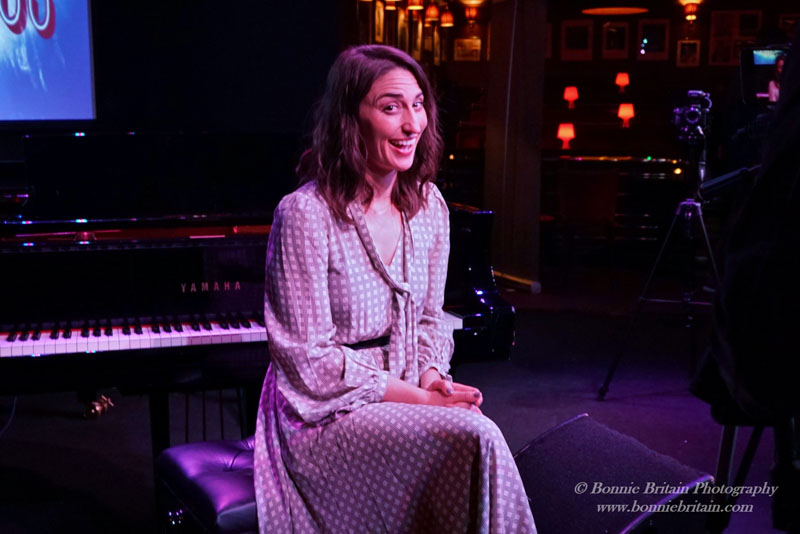 First Published on www.londontheatre1.com with added extra photos and video!
When I heard there was to be a launch event for Waitress, I jumped at the chance to be there. I'm not one for listening to a soundtrack before I see the show it is from, but I have been introduced to the song 'She Used To Be Mine' from Waitress at many cabaret shows, and what a powerful song it is, it really got my attention from the very first time I heard it.
The composer and lyricist of the musical Waitress is Sara Bareilles, and what a treat that we had her performing at the London launch but that wasn't the only treat in store for us.
As we entered Ronnie Scott's we were met with drinks, merchandise and of course pies! (which were yummy) There was a piano set up on the stage and a screen backdrop with clips from the Broadway show. It wasn't long until the room was fully packed with people excited to see Sara and find out a bit more about Waitress.
First to walk on stage was West End legend Ruthie Henshall who jested later on into the launch how frustrating it was loving the show so much but being too old to be cast. Ruthie did a fabulous job hosting the event introducing the producer and a video of the director who sadly couldn't be there and hosting a Q&A with Sara.
Barry Weissler from the team of producers told us that after seeing the film he knew he had to make it into a musical and the "special musical voice" that they wanted and needed was Sara who was then approached and the rest is history.
Sara told the audience that had she had known how hard or long she would have to work on this she may have said no, as she had no idea of the process but she is so glad she didn't know and said yes.
The creative team for Waitress is the first in Broadway's history to be all female. Sara and her team are very proud of this, and I loved hearing director Diane Paulus say on the video that the team was chosen as they "were the people who were best for the job – and guess what they are all women"
Sarah Bareilles has a very successful career outside writing for Waitress as a singer/songwriter/ solo artist, with her hit "Love Song," reaching #1 in 22 countries around the world from her debut album Little Voice. While Sara has been working on Waitress she had no time to record a new record but told us she is now doing so.
As Sara sat down at the piano she treated us to "Love Song" and "Brave" her solo hits before launching into some of the soundtrack from Waitress. Sara was joined on stage by Gavin Creel to sing "Bad Idea" and "You Matter To Me" before singing the solo number "She Used To Be Mine" which not only gave me a massive lump in my throat but reduced Ruthie Henshall to tears so much that she had to take a moment before hosting the Q&A. It was simply stunning – so heartfelt. It was honestly such an honour to be in the room to hear Sara sing it live.
Sara has previously played the part of Jenna in Waitress on Broadway but says she currently has no plans to do it on the West End but never say never as it is just a matter of timing.
Tickets have just gone on sale today for Waitress at the Adelphi Theatre and if I were you I would book up now.
LISTINGS
WAITRESS
The Adelphi Theatre
The Strand,
London WC2R 0NS
Performances from Friday 8th February 2019
Opening night: Friday 7 March
Monday – Saturday evenings at 7.30pm
Wednesday & Saturday matinees at 2.30pm