Dein Perry's Tap Dogs is returning to the London stage this October as part of their world tour. I was invited along to a showcase event hosted by Adam Garcia who starred in the film version 'Bootmen' and also played the lead Foreman in a previous West End season of Tap Dogs.
Adam Garcia, as charming as ever led the event by introducing the cast and leading a Q&A with us before the cast showed us some of their moves. First up to give us a solo tap dance was Anthony J Russo who is playing 'Foreman'. As Anthony tapped away he managed to knock over a glass of Prosecco that was standing on the floor just with the vibrations of tapping a few metres away – that should give you some idea of just how powerful these guys in their tap boots are.
The full cast also performed a couple of group numbers for us and wow, I have never seen workboots move like that before.
For someone who is not familiar with Tap Dogs or the style, it may come as a surprise to see a group of men in ripped jeans and workboots ready to dance their socks off. There is not a top hat or sequin in site. Tap Dogs describes its self as "part theatre, part rock concert and part construction site". In the Q&A Richie Miller who plays the part of 'Enforcer' said his favourite part of the stage show was that the cast are building the set around them while onstage – and that really is his favourite part and you have to see it.
So not having seen Tap Dogs previously I am getting the impression this really is something unique and special and I am really excited to see it. For those that have seen it onstage before, the cast explained that there are some changes with new lighting rigs and updates to music to keep it fresh.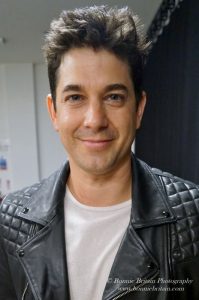 I also had the chance to have a chat with Adam over a beer.
How come you are still involved today?
I'm still involved for a number of reasons but mainly because Dein was my mentor. I originally started in a show with him, it was like an Art interlude for ABD ( Australian broadcasting commission) and that is where Dein really got the idea for this.  Dein was my mentor since I was 17 so I've been involved in Tap Dogs since then. I've been involved in workshops for it. I was going to be the first kid but then I moved to London then I was given Bootmen – which is the movie version of Tap dogs and then the show. Dean is like family to me and as all the others said, there is something that allows boys to be boys on stage. Its very masculine & feel like family to me.
Yes it is not your stereotypical top hats & tails sequins/42nd street is it?
Exactly. All these boys come from working class backgrounds. Dein Perry himself was a fitter and turner at Newcastle Steel Works so Tap dogs came out of Deins life, Dein and his brothers were Tap Dancers from Newcastle who were world champions, who were like 'how do we feel about who we are' so Tap Dogs really is the embodiment of who they are, and so many young guys go yeah I love tap dancing but I don't like the sequins. I wear jeans and flannelette shirts  so this is a show that totally represents who I am. I'm a guy who loves dancing.
Do you think Tap Dogs has helped to change the stereotype a bit over the years?
I think so, I think the show is a big part of that. I mean growing up dancing I didn't get to much hassle or maybe I did and was too vain to realise, but I know a lot of other guys did, but I think Tap Dogs certainly helped, one of the big key things was when we opened the Olympics in 2000 and I got to be a part of that too. It was about blue collar Australian workers. The industry and industrial people and Tap Dogs represented that, there was something like 2500 kids and adults tapping Tap Dogs style in work boots and talking about the industry in Australia so that sort of sums it up. It is just people doing their thing, very real and very raw!
Performances: Tuesday- Sat at 7.30, Sat at 2.30, Sun at 2pm & 6pm
Dates: 23rd October – 10th November
Tickets: £15- £45. under 16s 1/2 price
Tickets: 020 7863 8222 or peacocktheatre.com
For more information on the tour and cast go to www.tapdogs.com