As First Published on www.londontheatre1.com  
The Full Monty has arrived at Bromley's Churchill Theatre and what a treat of a play it is. The play is full of heart and laughter from start to end. The script cleverly uses some of the iconic lines from the film and stays authentically true to the plot which will please the film fans, but you don't have to have seen the film to go and love this play.
The cast have such good chemistry which shines throughout as it deals with some very challenging subjects with such a genuine sense of warmth and humour.
People may be coming to see the end result of the play – the men stripping off on stage but the journey and the story they tell on the way to the finale really is something that will catch your attention from the start.
I particularly enjoyed the relationship on stage between Gary Lucy and Fraser Kelly playing father and son, as we get to see the dynamics constantly changing in regards to who is looking after whom, while Gaz (Gary Lucy) will do anything to keep seeing his son Nathan (Fraser Kelly) it is, in fact, Nathan that makes it happen, providing the means and giving a final pep talk to his dad. Fraser gives a very confident & accomplished performance and will be one to watch for the future. I must also mention that James Redmond is a natural onstage and you would never know this was his first onstage experience, how he manages to keep a straight face through some of his scenes is a talent in its self.
There are far too many comedy highlights to mention them all with laugh-out-loud moments galore. The dancing is so funny (where it needs to be) and so entertaining and yes you get the Full Monty! although poor Joe Gill couldn't quite get his thong off this evening in time for the reveal, but hey that is live theatre for you, you never know what may happen! What you will get when you go to see The Full Monty is a play with a fantastic cast, set and soundtrack with a relevant heartwarming and hilarious story resulting in one fantastic night out.
5 Stars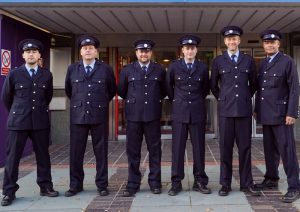 More tour dates listed below:
Mon 15 Oct – Sat 20 Oct 2018 Grand Opera House York
Mon 22 Oct – Sat 27 Oct 2018 – Churchill Theatre Bromley
Mon 19 Nov – Sat 24 Nov 2018 Regent Theatre
Mon 21 Jan – Sat 26 Jan 2019 Theatre Royal Brighton
Mon 18 Feb – Sat 23 Feb 2019 Opera House Manchester
Mon 18 Mar – Sat 23 Mar 2019 Liverpool Empire
Mon 22 Apr – Sat 27 Apr 2019 King's Theatre Glasgow
Mon 29 Apr – Sat 4 May 2019 New Wimbledon Theatre