Tarik Frimpong is an Australian actor, singer and dancer who has just made his film debut in 'Mary Poppins Returns'. As Tarik has just moved to London he met up with me to tell me all about his experience filming 'Mary Poppins Returns', what he hopes to do now he is in London and a little bit about his past theatre work too. 
Look out London he has just been cast and is soon to be on the West End stage.
How did you get the audition for Mary Poppins Returns
My story is a crazy, incredible one. I initially auditioned for a dancer. They put out a call for 20 male dancers to be choreographed by John DeLuca and a homage to 'step in time' from the original Mary Poppins. From that I had a really great audition and had a call back where I met Rob Marshall for the first time along with John DeLuca, Joey Pizzi (the co-choreographer) and Tara Hughes the assistant choreographer. It went really well. Then late that evening I had a call from my agent saying they'd like me to read for one of supporting roles in the film.
So you weren't expecting that?
No, I was initially just auditioning for a dancer. One of 20 male dancers, so I got that which was amazing, went in and read for the part but then got a call from the agent saying you didn't get the role but they love you and want  you to still dance in the film. We started a 4 week rehearsal process which was an incredible experience. I got to meet the actor who landed the role as Angus. He's an incredible actor but a little older than me.
When I started work on the film I was 22, so felt really young then. By the end of the 4 weeks I had done really well. I could tell that Rob and the team had taken a liking to me from the rehearsal process and I could tell I got really close to landing the role as there was a similar skill set. He was just a bit older and had done some West End film and TV, and then this amazing turn of events. At the end of the 4 weeks I got a phone call from Joey Pizzi, who is the co-choreographer, to say, we are going to be honest with you, unfortunately Craig (original Angus) has injured himself and is not going to be able to film the film, so Rob and John have asked if you want to come in and read for the part again and essentially do a self-cast that they send on to the exec's.
I said of course, no problem. You have to be ready for when these breaks come your way. I sang and I read lines again and within a 24-hour turnaround, I went in to do a publicity photo shoot and was told first hand on set that I had landed the role of Angus in Mary Poppins Returns.
Were you intimidated at all, by the fact Mary Poppins was so iconic?
I wasn't actually, because Rob Marshall is at the helm of everything, the way in which he brings the team together and makes you feel like you're in such a safe working environment is incredible, like no one I have worked with, he just really makes you feel like you are part of something magical and special. He really has an incredible way of working with everyone on set, from the prop makers, cleaners to the most established actor on set, he really has an incredible way of working.
How did you get on with the other cast, some big names to be working with?
For me, personally, working with Lin-Manuel Miranda was one of the most spine-tingling, crazy, pinching yourself moments, wow I'm actually going to be working with, an absolute IDOL OF MINE, cause he's the guy behind 'Hamilton' and 'In the Heights', 2 of my favourite musicals of all time, and obviously all the work he is doing for championing ethnic and cultural diversity in rights in casting, is obviously right up my alley.
It's incredible to see these shows that are cast by people who I see myself in, so when I knew I was going to be working with him, it was a bit surreal, but when we were on stage and we were doing the work, I never felt intimated or fearful or anything like that. When filming 'Tripping the Light Fantastic' with Lin-Manuel Miranda and Emily Blunt I was sitting there like, I'm 22 years old from Wellington Melbourne, Australia. That was so surreal and I had to to try and make myself present and not let it fly away from me.
How long did that epic scene take to shoot?
It was insane, we had 4 weeks from beginning to end, 4 weeks with dress rehearsal, so the final bit with all the lamp lighters the kids and Mary Poppins where we end up on Cheery Tree lane, and the final shooting I want to say it took a week and a half.
How did you find the filming process?
It was choreographed as a 10 – 15 minute dance piece that we could do in entirety in one shot, but what was most difficult was that for film you have to do things over and over again, unlike theatre where you have to smash out and deliver an incredibly difficult number once,  you do it, and then re-set and again from the top, you do it again and you don't know when they will use the takes, so every time you have to be on it because they might be like from the top and this is your close up and I really have to make sure I'm not looking like I've done this 40 times already today, so that was one of the most challenging things for me, doing it over and over again and wanting to have that consistency that energy and strength in my performance.
Did you get to meet Dick Van Dyke?
I didn't get to meet him on the set, but did get to meet him at the premier in the states
How many premiers did you attend?

I just did 2, the world Premier at Hollywood at the Dolby Theatre and the European premiere at the RAH. For both of those experiences I wasn't aware that we would be doing a curtain call where all the cast come out on stage. In Hollywood we did it at the end of the film. We watched the entire film then came up from the audience to stand on the stage at the Dolby Theatre and to look out into the audience, it was an absolute mind-blowing experience. I tried to take a mental snapshot and take it in and think this is something I'd like to achieve again.
Any stories from working with the other actors on set?
Everyone was so lovely, I couldn't speak a bad word of anyone on set, I was treated like absolute royalty and had so much confidence instilled in me and so much support from the creative, like Rob and John.
I knew some of the dancers from before. I guess we had been in classes together, but everyone else was entirely new. I'd not done work outside of Australia.
A funny little moment was when I was sitting in the changing room – I remember Lin who is big on Twitter – he'd be on Twitter and writing status and I'm like this is great – Joey Pizzi just followed me on Instagram, but to see him react when Tony Hawk followed him on Twitter – he was just as excited so everyone has a level of fandom.
Emily is so lovely, incredibly down to earth. Her and Lin made so much time for me, I guess as it was my feature film debut they really made me feel at home then again at the premiers, which didn't happen until a year and a half after we rapped on set, but again such a warm reception, Emily is so great, she is so down to earth and I speak to her like I speak to any friend of my own age in my own language, she is super chilled.
Did she give you any advice?
They all instilled a confidence, by telling me how impressed they were in my work, every time I danced, Emily and Lin were like you are incredible you really have a talent.  There was a tap solo that I co-choreographed for my character that didn't make the final cut of the film, but will be in the bonus extras on DVD and that moment was really special.
I had done some choreography work back in Australia, but to get to exercise that kind of skill on this project was amazing, they were all incredibly kind to me and very complimentary in the work I did.
Emily gave some advice to me and the others about auditioning in general, of switching to that mindset when you go in –  you may feel nervous, maybe jaded from the audition that you didn't get and be intimidated by the people on the other side but she talked about switching mindset to that of the people, the other side of that panel want me to be my absolute best because they want to find the most magical person for this role and I want the best fit. So they can be like, yes Tarik is the guy we need for this job, so that was really nice from her and something that I have taken on board and applied to being back in London and auditioning.
Rob gave me some incredible advice, up until this point, I'd done a lot of dance work, contemporary projects and I remember on the final day he always gives a little speech and I remember he was saying "today we are wrapping on a good friend of mine Tarik – he absolutely rose to the occasion, he then took me aside and said that the work that I had done on this film was incredible and really special and he said this was going to change the course of my career and life, he was like, take the opportunity by both hands, continue the dancing and all that, but really if this is something you have enjoyed then pursue acting, because you have the talent for it.. get yourself an acting agent, pursue this and use my name! Which was incredible, he really followed up on that, I stayed in touch with him after the film and him and his partner John DeLuca were kind enough to write me personal letter of recommendation, which is something that I hold close to my heart and I get emotional thinking about that support from him.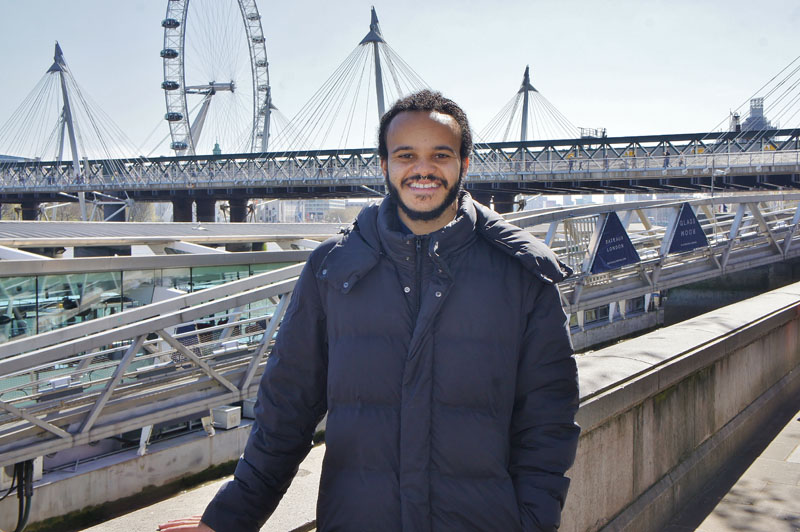 So now you have moved to London to hopefully follow up on that advice?
This is my first day off since I got here, I've had a bunch of auditions that have been good, some meetings with agents and things like that and seen some shows and movies.
Are you hoping to stay with films or are you auditioning for theatre too?

Definitely want to do theatre, my focus is now on theatre as well as  film and TV.
I have just found out I've landed a role in a feature ensemble role in a West End production – found out a few days ago. I'll be starting that early May, that will be my west end debut. It kills me that I can't say the name yet.
Is it more acting for you?

It's primarily dancing I have a character name and a few little scenes, it's a nice welcoming into the West End world – super exciting. It's a shorter contract, 4 months in total.  My dream show would be Hamilton, absolutely dream show, who knows something might come my way, until then I'm looking for shorter length contracts, in case film or TV work comes too.
You have worked in theatres at home in Australia right?
I was 'Young Simba' in The Lion King, first time it hit Australian Shores, I did that for over a year. I also travelled with the show to Shanghai China and performed it there too – incredible first theatre experience and opened my eyes to this magical world. It's only now I'm older that I have taken on how incredible that experience was, that show is such a spectacle. It's mind-blowing to be on stage in the makeup and delivering and performing that material. I think Circle of Life always brings me to tears, there is something about it.
So you are now set for the London Stage?
Yes – in London it's so fast-paced, what happened with me in Mary Poppins, one phone call and 48 hours later I was playing a supporting role, character number 17 in feature film Mary Poppins, Disney, and that was just insane. I landed in London on this trip about 2 weeks ago on a Monday and in 24 hours went in to see my agent and they said there is an audition happening tomorrow, are you interested and now I am 2 weeks away rehearsals for making my west end debut. Things happen so quickly
Is that why you have moved to London, more opportunities? 
Yes there is amazing work in Australia, some of the performers are the best in the world, but I am aware not as many opportunities.
How is diversity in casting over there?
I say we are a little bit behind, I'd say compared to London. That stems from the fact that a lot of the shows don't make their way over to Australia until a little bit later, so we haven't seen the likes of Hamilton yet. There has been talks about it coming to Australia but not made it to shore yet, things like 'Bring it On', which I was involved in and 'In the Heights' are shorter season runs and smaller produced productions, as opposed to longer running productions where they are able to cast with a wider net, so yes, def' a little bit behind, but we have an ethics diversity committee that works with Equity over there and they are making moves to make sure things are in the right direction – definitely stepping in the right direction with every show.
Would you jump back on a plane home if they wanted to cast you in Hamilton there?
Absolutely, it would be something I'd consider strongly, it would be something I couldn't say no too, I know it my lifetime I will definitely be a part of Hamilton, I don't know where that will be, so if Australia was it, I could play a range of roles, so what ever a creative team saw fit, I would take.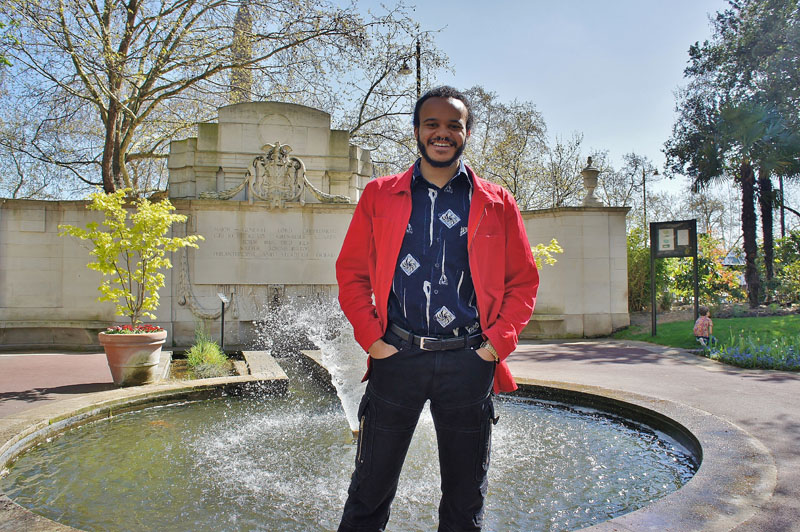 Does your skill set come from a passion of watching these arts?
Yes, I am such an observational learner. A lot of my training comes on the job, I graduated from college, did 3/4 of a year at dance college, after that I did my own training.
How did you discover you can sing?
I didn't have formal training but when I landed role in Lion king I did have lessons for that. My mum owns her own dance school so I started dancing there.

A lot of my learning  has been on sets and I have the humility and vulnerability whenever I see anyone better than me, I say can we exchange, can you teach me, I would happily share, things like that. That's why I love going to see shows, I am always learning.
Back to Mary Poppins Returns for a minute, how was the recording of the Soundtrack CD?
Rob and John were there to guide us. I had done some stuff like that for small projects in Australia, I just jumped into this, I had great direction, they got me to physicalize things, jump up and down on this box and then deliver the line. I love any kind of direction and physicality that I can use so that was a lot of fun.
Do you write your own music too?
I play guitar and what I really like to do is take contemporary pop songs, play those and then make raps, so instead of a second verse, I sneak in a rap that I've written, this is probably the extent of writing my own music
If you were to get more film roles, is there anything you would do different? 
I wouldn't do it differently, but be conscious it wouldn't be the same again.
I guess I would have a little more confidence. I do remember there were a few moments when I would be sat in my trailer alone waiting to be called to set and there were some moments, like when you're by yourself and you are over thinking, in those moments I'd know – you've done this before, you are more than capable, you are right where you meant to be.
I would eradicate that doubt and be strong and confident
so I guess they are things I'd really take into consideration on my next film project.
Mary Poppins Returns is out now on DVD.
You can follow Tarik on Twitter and Instagram @tarikfrimpong