I went along to The Pleasance Theatre for a photocall and chat with some of the cast from the production. On entering the theatre I was instantly transformed into a black and white film, the set was cool but when the actors came on set in their makeup and costumes I was visibly wowed by the entire look. I loved taking the photos in that set – the lighting and stage set the atmosphere perfectly.
Enjoy some of my photos below before reading on to my interviews with the cast that were first published by LondonTheatre1.com
Marc Pickering

Q: Which part do you play?
Marc: Well I'm currently dressed as 'Dave Fisherman Zombie' a very slow-paced zombie who is like an amalgamation of all the zombies I've seen in all the movies, but this isn't my main character, my main character is 'Harry'. Harry is the old, angry, selfish guy who has locked himself in the basement with his daughter Karen and his wife Helen, whom he detests – they do not get on, but he wants everyone to get down in the cellar as he thinks it is the safest place.
Q: Have you ever done anything like this black and white makeup before?
Marc: No never – I worked with Benji Sperring (Director) before on Toxic Avenger but in terms of what it looks like I've never had to go through this, it is a lot of preparation, it takes an hour to get on.
Q: And to remove it after?
Marc: It's not a nice process, it's just a big tub of grease, a towel and scrub!
Q: You are working with Benji Sperring again for the 4th time and Ashley for the 2nd time after Toxic Avenger – is this the type of production you enjoy?
Marc: Yeah, I like the over-the-top tongue in cheek comedy, but this time it's a bit different as it's not a musical it's a play – but there is a musical treat at the end, so it has been a bit different for us not having to learn choreography and songs and just getting to concentrate on the acting.
Q: How scary is the play?
Marc: Right from the 'turn the phones off' announcement, the audience are told that this is not horror – it has a horror element but it is a comedy first and foremost, apart from a few jumpy bits and the odd bit of gore it is not too scary.
Q: How are the audience reactions so far?
Marc: We are still finding our feet, but to see the audience on the stage in the splatter zone getting absolutely covered is just a joy and also to see the audience's reaction of them being splattered is fun.
Q: Are those in the splatter zone given anything to protect them?
Marc: Yes, they are given a boiler suit and a shower cap so they are covered and part of the black and white look.
Q: Do you ever aim your splatters at anyone?
Marc: We did yesterday as one lady came in bright red and decided she wasn't going to wear the protective boiler suit so she ruined the whole look of the set – so we got her good.
Q: What would you say to people to get them to come and see Night of the Living Dead™?
Marc: They should come to see it as its not your regular night out at a theatre, it's got everything, it's got scares and silly humour. Also, there is an audience on stage on a revolve getting splattered – which is different.
Q: Have you got any plans for after the end of the run?
Marc: You never know what's in the pipeline but there may be another film for me. I did one last year about The Krays and there are rumours of another two films following that so that would be nice.
Q: You have a great acting career – where you work in film TV and stage – how do you balance all that and make it work?
Marc: Well, I got lucky from a young age when I did Sleepy Hollow with Tim Burton and I got an agent through that. I would love to get a letter to Tim to get him to come and see this. Thanks to that film I could get my foot in the door for film and TV work, but my passion first and foremost is stage work, there is just nothing like it. The rehearsal process, where you get to know your character inside and out, you can try it one way, think that didn't work, then go back to it and try again the next time so the whole process feels more rewarding.
Q: Is there a role you would love to play on stage?
Marc: I have been told I look a little bit like Buster Keaton, and I love my physical comedy so I am hoping one day to do an autobiography of him – maybe on Netflix or something? But there are loads I would like to do from listening to the music growing up, like Blood Brothers, Pilot in Jesus Christ Superstar, stuff like that.
Mike Bodie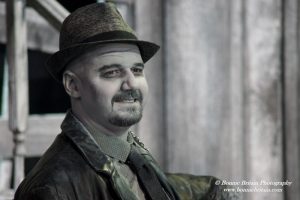 Q: Which characters do you play?
Mike: My main character is 'Chief McClelland' the law enforcement officer who is trying to keep everything under control. I play another character who is called 'White Ben' and I play numerous zombies throughout, although the great costume work will disguise who I am. Although with my height it's an easy tell.
Q: So, how has your experience been so far working on Night of the Living Dead™?
Mike: It's been great, we are in previews and we had a couple of weeks rehearsals, then getting here and putting all that rehearsal into practice with the set and lights and making the adjustments. It is great to have previews to hone these things down – particularly with the audience on stage.
Q: Your speaking voice sounds so cool and iconic like it belongs in this genre, or on voice-over for detective films, have you done any voice-over work?
Mike: I have yes, and oddly most of the voice-over for this show is done by myself. I have built a recording studio in my home so I can self-produce and create some voice-overs and for stuff like this, it is really useful. I can re-record things and contribute in other ways. I also do the voice-over for the radio scenes – there are a couple of scenes where there is dialogue coming through the radio, so essentially I end up doing my 'radio voice' which is fun.
Q: How are you coping with the audience being all around you on the stage?
Mike: One of the characters I play has his entire scene in the centre of the stage surrounded by the audience, so I am still getting used to having people less than arms' length away from me. I think if I acknowledged them it would break the illusion, so I treat the audience on the stage no different to the audience sat in the theatre. I find ignoring the ones on stage to work, there is a part where the audience on stage gets splattered by fake blood. The audience will get soaked, so it is good we provide protective coverings for them, and they just happen to be in the same colour scheme as the show. So as long as I don't trip over anyone's feet on the stage or no one is man-spreading it's actually okay. The character I play is quite big and brash – so as soon as I come tumbling down the stage people do retract a bit so they are not in the way.
Ashley Samuels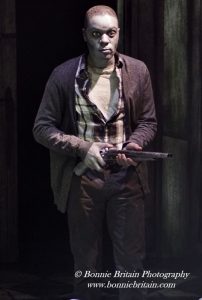 Q: Who do you play?
Ashley: I am playing Ben – I am literally the only member of the cast who doesn't multi-role. Ben is the hero who is always trying to come up with a plan to save the day, it's taken exactly from the film – so I am playing Ben exactly how Dwayne Jones who originated it in the film.
Q: Have you watched the film a lot for reference?
Ashley: I have. It has been constantly on my Smart TV to really immerse myself. When I watch it I really enjoy it. Even though it was made in the 60s it was the birth of the horror genre and it's actually quite clever in places. I always appreciate films when they have matured and you can tell if they have stood the test of time and this has.
Q: When you applied for the part did you have any idea about the audience being on stage with you?
Ashley: I did not know that no, but you know what, I have not noticed them that much. We have had the chairs laid out in the rehearsal room so we got used to where the people would be and we psyched ourselves up for worst-case scenario like people with legs out and having to walk over them, but so far there has been none of that and people are being really responsive, polite and well-behaved.
Q: Has anyone jumped out their skin yet?
Ashley: There was a lady who jumped out of her skin as I first entered, and it gave me a buzz, so more of that please – we want people to jump and scream.
Q: Which do you find more fun? Making someone laugh or being scared?
Ashley: I'm always a massive fan of making someone laugh, I feel that's a real quality and I think it is a real art form to make people laugh. Marc, Mike and Tama, Jen and Mari are all very funny people, they have funny bones and have had the audience in stitches
Q: As an actor do you get the luxury of picking and choosing which auditions to go to or do you still go and audition even if you think the part is not for you?
Ashley: I think it happens a lot more to us as we mature and get older as we navigate this industry. When first out of drama school we want to say yes to everything, but it can burn you out. In the last few months, I've had a couple of auditions where I think I'm not right for this but still gone and seen what happens and sometimes it can be a waste of time as then at the end you get told you are not right for this which you kind of knew. I think you get a gut reaction when you think this could be for me. If you go for an audition and think the part is right for you and you can bring something to it then go for it, and if not take a good look at it and ask questions as to why you want to do it before you say yes.
Q: Any plans for after this run?
Ashley: No, I have just decided to live in the moment and try and enjoy life. As much as I would love to make plans and say this is what I wanna do, life isn't like that and can change every single day. So I'm just going to enjoy this run and see what happens at the end of it – take a little holiday then come back and try again. I think that's the way I am going to take my next few years in this mind-boggling industry.
                               *******
I was so impressed with this look into Night of The Living Dead™. If you are a fan of this genre, immersive theatre or just a unique experience and being close to the action, then I would recommend you book the stage seats in the splatter zone now as they may well sell-out fast after reviews go out. If you just want to enjoy the action and comedy of this classic story then do not worry there are safe zones too.
I look forward to watching the full production from the safe zone as I am a big baby – ha!
NIGHT OF THE LIVING DEAD™ LIVE! is presented by special arrangement with SAMUEL FRENCH LTD.
Booking Period: 9 April – 8th June 2019
Running Time: 2 hours including an interval
Age Restrictions: 13+
Venue: Pleasance Theatre, Carpenters Mews, North Road, London N7 9EF