On Saturday the 1st of September (2018) PupAid returned to London's Primrose Hill. This unique day gives the dog-loving public the opportunity to help raise awareness about the UK's cruel puppy farming trade by attending this amazing, celeb-judged dog show. 
I have been before as it is a subject I strongly support and believe in. You can listen back to my radio show from 2014 when I spoke to some of the celeb judges and the founder of PupAid, Mark Abraham.
This year was bigger and busier than ever and what a celebration too with the passing of Lucy's Law.

The Lucy's law campaign has been calling for an immediate halt to the sale of young pets by third-party commercial dealers.

Lucy's Law aims to hold breeders accountable for the animals they earn money from and reduce serious health problems and socialisation issues which afflict pets that have been poorly bred.

To read more on Lucy's Law click here.
Mark Abraham and his team have been campaigning for this for 9 years and a petition supporting the change in the law was signed by nearly 150,000 people. To have this Law passed was a massive achievement and what better way to celebrate it than at PupAid, full of dogs and dog lovers.
Here are the winners on the day:
Best in Show: Millie Moo
Golden Oldies: Buddy Dog
Prettiest Bitch: Sophie
Most Handsome Male: Raffy
Dog Most Like a Celebrity: Gracie May
Waggiest Tail: Lily
Best Rescue: Jake
Dog Most Like It's Owner: Hunkers
Bravest Dog: Scout
Child's Best Friend: Frida
Most Stylish Pooch: Veronica
Celebrity Judges on the day included:
Peter Egan
Emily Hartridge
Dr Dawn Harper
Talia Dean
James Mcvey
Kirstie Brittain
Jason Burrill
Lizzie Cundy
Storm Huntley
Angie Best
Calum Best
Penny Lancaster
Gail Porter
Lisa Armstrong
Rachel Riley
Pasha Kovalev
Eyal Booker
Kady McDermott
Hannah Waddingham
Victoria Stillwell
Ellie Brown
Zara McDermott
CiCi Coleman
Meg Matthews
Alice Beer
Candice Brown
Gemma Atkinson
Penny Smith
There was also a guest appearance from Ricky Gervais! who has been part of the campaign to end puppy farming from the start.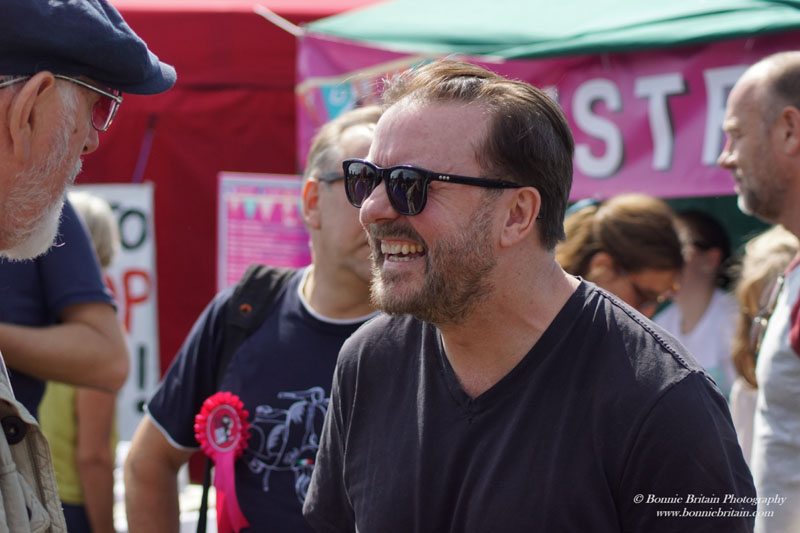 I had a quick chat with Ricky. He was loving being round all the dogs and being very humble about his involvement stating all he did was send a few tweets and all the hard work was Mark Abraham, Peter Egan and their team. 
I asked Ricky what his attendance at event meant to him.
Well it brings me joy. I have just been going round cuddling every dog I can find. All dogs are amazing, they are beautiful, unconditionally perfect all shapes and sizes they are all brilliant. There is no such thing as a bad dog only bad owners. They are incredible creatures and we should try and deserve them.
Ricky was more than happy to to talk to dog owners and take photos with everyone and their dogs. People were so excited to see him there too.
I started my day off watching some of the competitions and I can say the celeb judges did not have it easy choosing winners as ALL dogs there were so lovely.
One of the first winners I saw was 'Dog Most Like a Celebrity' in which Gracie May as Eddie Eagle won.
Chatting to Gracie Mays owner she told me that they may have been up all night making some skis as they are the perfect accessory but the goggles and suit Gracie has to wear are due to conditions, so it was a no brainer to enter as Eddie the Eagle Edwards. 
Another chap we met early on in the day ended up winning 'Best Rescue' and also the reserve in best in show. What a beautiful friendly dog, to hear what he had been through and still be such a loving dog was just heart warming. But as Ricky said "All dogs are Amazing".
After another amazing event I spoke to Mark about what was next now Lucy's law has passed.
I'm going to enjoy the moment, it's been a crazy 9 years, I need to try take it all in but I am not sure I will. This has been the craziest two weeks, then to see maybe how we can now apply it to Wales, to Scotland to America maybe to other animals, so there is plenty of scope. I think as a first major step to not only ending puppy farming but also to pets sold as retail commodities, Lucy's Law is so significant on so many different levels. But we do need to take a few days to take in what a small bunch of campaigners can achieve, a day like today it has just been amazing.
I also asked if he will keep holding the annual event of Pup Aid? 
We don't know yet, I would like to but I need to have a chat and I think it will always be relevant.
PupAid 2018 in Primrose Hill. PupAid campaigns to end the cruel puppy farming trade. Please visit pupaid.org for further information.