On Wednesday 29th August I was invited to join the cast of Thriller Live as they celebrated Michael Jackson's 60th birthday by performing on the top of the show's  branded double-decker tour bus.
What a fun way to celebrate Michael Jackson and see London. 
I got to chat to cast members all things Thriller Live ahead of what will be their 4000 show at the Lyric Theatre on the 12th September, which they are celebrating with a special charity Gala night.
Interview with Vivienne Ekwulugo
Bonnie: What does it mean to you to be performing in Thriller Live on what would have been MJ's 60th Birthday?
Vivienne: I am really proud and really honoured to be in this show especially this year as it is the 10th anniversary of the show and there is a lot going on. As a massive MJ fan it's so bizarre just representing his magic and talent and having the opportunity to represent him, I feel really honoured.
When I was 11 I performed 'Ben' I am a massive fan of MJ and this seems like it is just meant to be for me.
Bonnie: With the show coming up to its 4000th show do you know how many you have done?
Vivienne: I've not counted and I don't know how i would work it out, I have been here a year and I will be staying for another year which i am really excited about. The cast is always changing here and we have new faces coming and it is just a really nice family.
Bonnie: There is going to be a special gala show on September the 12th have they told you who the special guests are?
Vivienne: They are being very hush hush about who is coming to be our special guests for the night, but i have heard some as my dressing room in next to our MD and I have heard him rehearsing. I have asked him 'John who is that you are rehearsing with?' but he says its a secret so its all under wraps and very exciting.
Bonnie: Are you enjoyed getting to perform on the open top bus today? have you done anything like this before?
Vivienne: No this is a first, it is really strange but i'm enjoying it and the public on the street are enjoying it too.
Bonnie :  Do you have dream stage roles in your mind for the future?
Vivienne: I would love to be a Dream Girl or to be in Hamilton, I would love to develop my acting a bit more . I just feel really blessed to be in this show and I always hope to improve.
Interview with David Devyne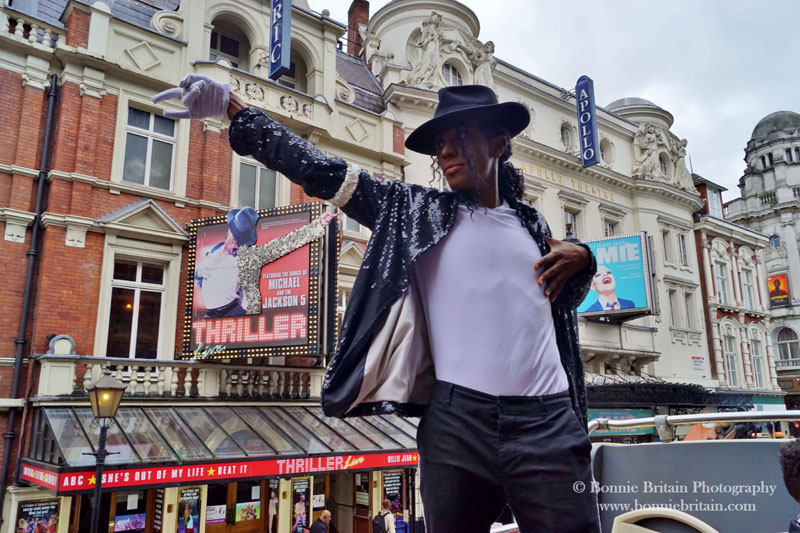 Bonnie:  David you have got the most iconic look of MJ, the one that is on the poster that we all know as MJ. You get all the iconic dance moves, you are performing in the image of MJ, coming in to Thriller Live was this the part you always wanted?
David: YES, I originally came in as a dancer/ensemble and I ended up doing MJ as well which is such a privilege and responsibility to be given. MJ has influenced time, he has influenced the music and the culture so much so to be able to play MJ in Thriller Live is really such an honour and privilege, I'm so grateful to be here to showcase his music.
Bonnie: Do you know how many shows you have done so far?
David:  No idea, its a lot, but you know what I treat each day as a brand new show, like every show is the first time that keeps my drive going.
Bonnie: Have you got any memorable shows?
David: So many memorable shows for me, as long as the audience is enjoying the show that is what makes it special and memorable.
Bonnie : So have you always been a big MJ fan?
David:  Always, yesterday my little nephew came to see me in the show and I was just looking at him trying to do MJ and it was like remembering what I was like at that young age. He was showing me all the moves he tried on the hat and was really enjoying himself and I was the same at 7/8 years old I can remember loving him back then. MJ is timeless so his music will always live on. I don't get tired of dancing to MJ at all, honestly where ever I am at work or home and MJ is on I love it.
Bonnie: Why should MJ fans come see Thriller Live?
David: Fantastic singers and performers that deliver the MJ message. It's all about showing love and respect to everyone and making sure we put on a great performance every night.  Thriller Live gives a great overview of MJ's life in music and it is a celebration of what he has given to us and then we convey that to everyone. For me the music is everything. 
Bonnie: With Gala night coming up and there being special guest to be announced, If you could have a dance off with anyone on stage on the night who would you choose.
David?  I would love a dance off with someone that would be so cool! If I could choose anyone dead or alive it would always be MJ but living it would be Usher or Chris Brown are my favourites – dance wise. I love those artists as they have taken influence from MJ and made it their own, they are so talented too, and hopefully they will one day become timeless like MJ did.
Interview with Daivd Julien and Haydon Eshun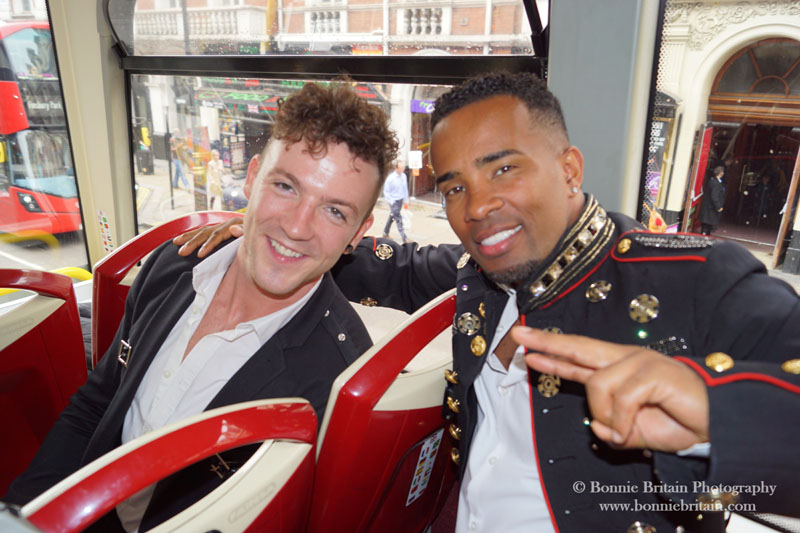 Bonnie: You have both been independent artists in the industry, would you guys rather being doing your own thing carving out your own music history like MJ did ?
David J : Of course the creative side of things never goes away, I mean me and Haydon may even end up doing something together in the future, but a music career is not a structured thing, so Thriller Live is such a step up in opportunities for me and I am absolutely Loving being on the West End. When i do leave here other doors will open for me just from the accolade of being here. Thriller Live is me singing a legends songs so this is AMAZING!
Haydon: At one point in my career I was signed to Motown records like MJ, it was only for 6 months but still, being in a young boyband we always had the comparison with the Jacksons. I have always loved his music and I never thought I would be on the West End but I am loving it and that is why I am still here!
Bonnie : David were you always a fan of MJ too?
David: yes, the first album I ever bought was Thriller so its like its meant to be.
Bonnie: So have you guys been told who you will be performing with on the special gala night coming up? If you could choose to have anyone on stage with you at Thriller Live for the 4000th Gala show who would you choose?
David: They will not tell us who is coming on as we are lose lipped, but we are hoping we get the chance to perform or duet with some of the guests. If I could choose anyone it would have to be The Jacksons.
Haydon: well I have the same manager as The Jacksons and that would be amazing but I have not been told anything. Last year I got to do 4 gigs with Tito so that was a dream come true.
David: I would love to do something with Bruno Mars.
Bonnie: Any final words why people should come see Thriller Live?
David: Come see it its a real spectacle, a great show and a fun night out.
The Bus tour was fab, what a way to see London and celebrate Michael Jackson's Birthday, there was cupcakes and bubbles being served and being treated to MJ songs as we toured was just spot on. The look on the public's face as we were driven round and the cast performed was magical with groups of people joining in and getting right in the spirit. I had the best time.
Below are some more photos from the day.
For more information on the Gala show and to book tickets click here.
They have just announced one of the guests.
Hope to see some of you there!